Summary of our stainless steel Spot-On sundials
Click here for printable version
Product
Overall dimensions
Engraving area
cm. Matt circle dia. (ins. approx)
Weight
kg (lb. approx)
Fixing PCD (cm)p
Suitable for:
Latitude range
Price (£)d
despatch
Notes:
d - Prices do not include delivery (£20 to mainland Britain)
e - Price includes engraving to customer requirements within engraving area
g - A short message can be engraved on the side of the gnomon at an extra cost of £45
p - Each dial has 4 blind M6 threaded holes drilled along the diagonals on the underside. The pitch circle diameter (PCD) is the distance from the centre of the dialplate to the centre of the M6 holes in mm.600
55 cm. Stainless
(model SK)
O:- 55 x 55 x 25H
E:- 55 x 12.5
M: - 42
O:- 22 x 22 x 10 H
E:- 22 x 5
M:- 16½
20½ (45)

600
any latitude;
custom-
designed
£1,920e
4-6 weeks
42 cm Stainless
(model SL)
O:- 42 x 42 x 21.5H
E:- 42 x 9
M: - 32
O:- 16½ x 16½ x 816½ H
E:- 16½ x 3½
M:- 12½
12 (28½)

440
any latitude
custom-
designed
£1,350e
4 - 6 weeks
30 cm. Stainless
(model SM)
O:- 30 x 30 x 15H
E:- 30 x 5.5
M: - 23
O:- 11¾ x 11¾ x 6H
E:- 11¾ x 2
M:- 9
9 (20)

200
any latitude
custom-
designed
£860e
10-13 weeks
24 cm. Stainless
(Model SQ)
O:- 24 x 24 x 14H
E:- 24 x 4.5
M: - 18
O:- 9½ x ½ x 5½H
E:- 9½ x 1¾
M:- 7
7 (15)

195
any latitude;
custom-
designed
£660e
4-6 weeks
The Skywheel NEW!
baseplate: 15 x 45
wheel dia. 49
overall height 35
baseplate: 6 x 18
wheel dia. 13¾
overall height 19¼
n.a.

any latitude;
custom-designed
POA
4 weeks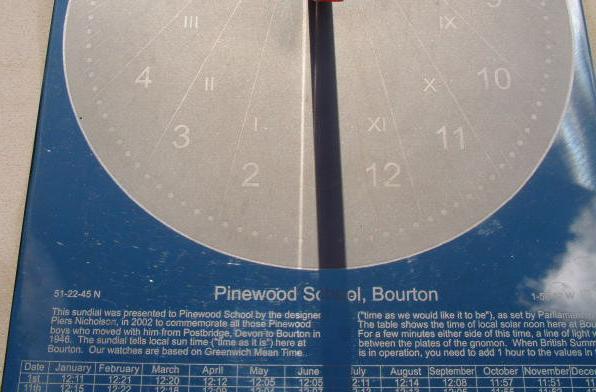 Note the clear shadow on the matt dialplate, and the crisp reflection of sky and surroundings on the mirror-polished surface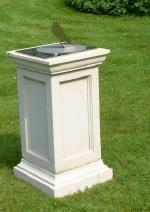 The 55 and 42 cm. square Spot On sundials in stainless steel are designed for the forecourts of offices and public buildings, for public open spaces, and for the larger garden.
These elegant and robust dials incorporate the split gnomon, so that every day at solar noon a line of light will shine through the gnomon along the noon line. The dial plate with 10 minute lines and 5 minute spots is matt, to ensure a really sharp shadow. The remainder of the dial plate and the sides of the gnomon are mirror-finished. This gives rise to some interesting reflections, both of the sky above and the near side of the matt dial plate, so that the gnomon from some angles appears to be suspended in space.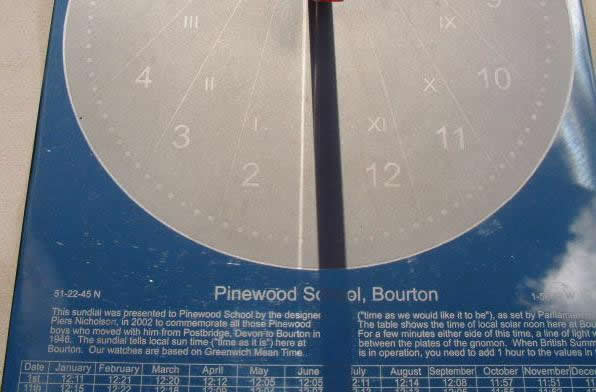 There is a space for special engraving in the 8 x 34 panel at the foot of the dial- plate - the engraving can incorporate mottoes, dedications, and information about the sundial, according to the choice of the client. 55cm - for ordering information, please contact us or please send us an email.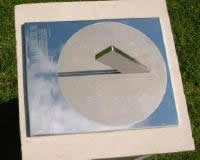 You will find many more pictures of these elegant stainless steel sundials in their settings on this page
These stainless sundials was designed by Piers Nicholson and incorporates the split gnomon which gives the "line of light" at every noon time. This feature makes the Spot-On Sundials easy to set up accurately to true North, and thus to read the time to the nearest couple of minutes.
Please get in touch with us if you want to discuss your specific requirements in more detail, either by Email or by telephone on 01 372 725 742 or by post to the address below

© Copyright 2018 Stainless Steel Sundials by Spot-On Sundials
- tel: 07 909 747 335 - email: info@stainless-sundials.com
Spot-On Sundials, 9 Lynwood Avenue, Epsom, KT17 4LQ Surrey, England
Tel: (+44) 1 372 725 742, Mobile: 07 909 747 335 (+44 7 909 747 335 from outside the UK)